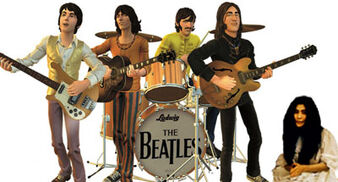 The Beatles were an English rock band, formed in Liverpool in 1960, and one of the most commercially successful and critically acclaimed acts in the history of popular music.[1]From 1962 the group consisted of John Lennon (rhythm guitar, vocals), Paul McCartney(bass guitar, vocals), George Harrison (lead guitar, vocals) and Ringo Starr (drums, vocals). Rooted in skiffle and 1950s rock and roll, the group later worked in many genres ranging from pop ballads to psychedelic rock, often incorporating classical and other elements in innovative ways. The nature of their enormous popularity, which first emerged as the "Beatlemania" fad, transformed as their songwriting grew in sophistication. The group came to be perceived as the embodiment of progressive ideals, seeing their influence extend into the social and cultural revolutions of the 1960s.
With an early five-piece line-up of Lennon, McCartney, Harrison, Stuart Sutcliffe (bass) and Pete Best (drums), the Beatles built their reputation in Liverpool and Hamburg clubs over a three-year period from 1960. Sutcliffe left the group in 1961, and Best was replaced by Starr the following year. Moulded into a professional outfit by music store owner Brian Epsteinafter he offered to act as the group's manager, and with their musical potential enhanced by the hands-on creativity of producer George Martin, the Beatles achieved mainstream success in the United Kingdom in late 1962 with their first single, "Love Me Do". Gaining international popularity over the course of the next year, they toured extensively until 1966, then retreated to the recording studio until their break-up in 1970. Each then found success in an independent musical career. Lennon was shot and killed in 1980, and Harrison died of cancer in 2001. McCartney and Starr remain active.
During their studio years, the Beatles produced what critics consider some of their finest material including the album Sgt. Pepper's Lonely Hearts Club Band (1967), widely regarded as a masterpiece. Four decades after their break-up, the Beatles' music continues to be popular. The Beatles have had more number one albums on the UK charts, and held down the top spot longer, than any other musical act.[2] According to RIAA certifications, they have sold more albums in the United States than any other artist.[3] In 2008, Billboardmagazine released a list of the all-time top-selling Hot 100 artists to celebrate the US singles chart's fiftieth anniversary, with the Beatles at number one.[4] They have been honoured with 7 Grammy Awards,[5] and they have received 15 Ivor Novello Awards from the British Academy of Songwriters, Composers and Authors.[6] The Beatles were collectively included in Time magazine's compilation of the 20th century's 100 most influential people.[7]
The band toured, gaining immense worldwide popularity, until 1966 when its members spent focused on making music in the studio. During its touring years, The Beatles released seven albums in their native England. During their studio years, six albums were released. 22 singles and 13 EPs were released in England while the band was together.
In 2009, The Beatles: Rock Band was released featuring exclusively Beatles songs spanning the band's career. 44 songs come with the game. (One of these is composed of two tracks edited together.) In addition to the on-disc songs, three albums and an individual song have been made available for payed download with the possibility of more music in the future. The Beatles: Rock Band is the only game in the Rock Band series in which The Beatles music is featured. Beatles downloadable songs can only be played in this game.
Rock Band Discography
Edit
If an album's title is bold, it signifies that all of its songs are playable in the game.
Albums
Album
On-disc songs
DLC songs
Notes
Please Please Me (1963)
4
0
With the Beatles (1963)
1
0
A Hard Day's Night (1964)
2
0
Beatles for Sale (1964)
1
0
Help! (1965)
1
0
Rubber Soul (1965)
3
11
Revolver (1966)
3
0
Sgt. Pepper's Lonely Hearts Club Band (1967)
4
8
"Sgt. Pepper's Lonely Hearts Club Band" and "With a Little Help From My Friends" are combined into a single playable song on-disc.
Magical Mystery Tour (1967)
2
1
"All You Need Is Love" was available exclusively for individual download on the Xbox 360. It was made available for the Wii on February 16, 2010 and for the PS3 on March 10, 2010.
The Beatles (1968)
5
0
Yellow Submarine (1969)
1
0
Abbey Road (1969)
6
9
"Sun King" and "Mean Mr. Mustard" are combined into one downloadable song. "Polythene Pam" and "She Came In Through the Bathroom Window" are also combined. As are "Golden Slumbers," "Carry That Weight," and "The End" (even though "The End" was individually included on-disc.) In addition, the final nine tracks of the album are combined into a single playable "Medley."
Let It Be (1970)
4
0
Singles
A-side
On-disc songs
DLC songs
Notes
I Want to Hold Your Hand (1963)
1
0
I Feel Fine (1964)
1
0
We Can Work It Out / Day Tripper (1965)
1
0
Double A-side; only "Day Tripper" is included in-game
Paperback Writer (1966)
1
0
Hey Jude (1968)
1
0
B-side "Revolution" is included in-game; not A-side
Get Back (1969)
1
0
B-side "Don't Let Me Down" is included as is the A-side. However, "Get Back" is categorized under the Let It Be album in which it also appeared.
External Links
Edit
Community content is available under
CC-BY-SA
unless otherwise noted.