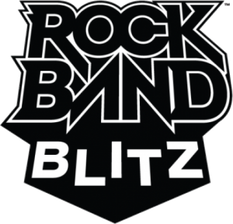 Rock Band Blitz is a rhythm game in the Rock Band series from Harmonix Music Systems as a downloadable game for Xbox Live Arcade, PlayStation Network, and WiiWare, released in August 2012. Unlike previous iterations of Rock Band, Blitz does not use special instrument controllers, instead allowing the player to use a regular console controller to match notes in a song, using gameplay mechanics similar to Harmonix' previous titles of Frequency, Amplitude, and Rock Band Unplugged. In addition to 25 songs that will ship with the game, the title is capable of using any songs the player has downloaded or exported for Rock Band 3.
It is fashioned similarly to Harmonix' previous titles, Frequency, Amplitude, and Rock Band Unplugged. The game presents 5 different instrument tracks to the player. Using a standard game console controller, the player uses the buttons to match notes on one track at a time, and by successfully matching enough notes will increase that track's multiplier until the current maximum multiplier is reached. At checkpoints, the maximum multiplier is raised to three above the current lowest multiplier. Upon successful completion of a song, the player is given a total score and compared to other friends via online leaderboards. Completing multiple tracks in a row for a given instrument will increase the scoring multiplier for subsequent tracks. Certain sections of tracks include power-ups that can be used to alter scoring, automatically clear tracks, and more. Project director Matthew Nordhaus stated that the game is a departure from the past Rock Band titles, "instead of having the focus on musical authenticity, and performance simulation, it's an arcade game", and thus at times may be "fast, and loud and silly and a little over the top".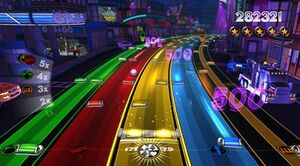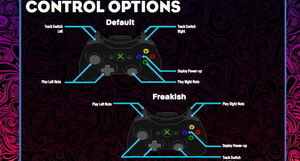 see also: Rock Band Blitz Setlist
Community content is available under
CC-BY-SA
unless otherwise noted.