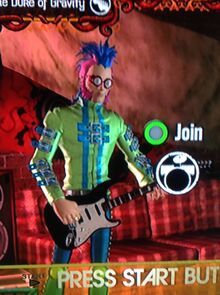 Mike Nawrocki, also known as The Duke of Gravity, is a character in the Rock Band series and one of the playable Session Musicians in Rock Band 2, Rock Band 3, and Lego Rock Band.
Physical Appearance
Edit
In the first Rock Band, The Duke of Gravity wears a blue jacket with yellow lining, yellow pants, and blue and white shoes, as well as pink circular goggles and rings on his fingers. He also has a pink and blue mohawk and pink mutton chops. In Rock Band 2 however, he wears a light green jacket with blue lining, tight blue pants, and is barefoot. His hairstyle, hair color, goggles, and rings remain the same though his mohawk was slightly altered in Rock Band 3.
Performances
Edit
The Duke of Gravity is a guitarist/bassist character in the first Rock Band. In every other game he's in, he can be seen singing vocals or playing guitar, bass, or drums. He mainly shows up for any song from the Pop-Rock, Indie Rock, New Wave, Alternative, and Nu-Metal genres whenever the player isn't using him.
Instruments
Edit
In Rock Band and Rock Band 2, The Duke of Gravity uses a black Fender Big Block Stratocaster and uses a dark red Gretsch G6073 Electrotone Bass for guitar and bass respectively. In Rock Band 2, he also uses a black Shure SM58 microphone for vocals and a black Ludwig Classic Maple drum set with a Diamond Pearl finish for drumming. In Rock Band 3 however, he uses the Brain guitar and bass and his drum set is a DKS-5910 Pro High-Tech Performance Kit.
In-Game Appearances
Edit
He is one of the four Rock Band 2 Session Musicians to appear in Rock Band 3. The other three are Moosejaw Boudreau, Mothership Q, and Dora Sullivan. In addition, he and Moosejaw Boudreau are the only two characters from the first Rock Band that appear in Rock Band 3.
Rock Band 2
Edit
Lego Rock Band
Edit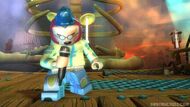 This Article Just got Booed Off Stage



Hey there! Can you please help us polish up this article and perfect it?