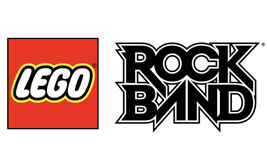 Lego Rock Band is a music video game and part of the Rock Band series developed by Harmonix Music Systems, but also incorporates elements from other Lego video games as developed by Traveller's Tales. The game will be distributed by MTV Games, Electronic Arts, and Warner Bros. Interactive Entertainment. The game is expected to be released during the holiday season of 2009 for the Xbox 360, PlayStation 3, and Wii home consoles. A Nintendo DS version is also developed in conjunction with Backbone Entertainment.
The game, as with other games in the Rock Band series, will allow up to four players to use instrument controllers to play lead and bass guitar, drums, and vocals on a number of rock music songs. In addition, aspects of building with Lego bricks as seen in Classic and Modern LEGO Video Games are incorporated into the game, allowing players to customize their avatars and other band assistances, and include additional Lego-themed gameplay modes. The gameplay and the game's soundtrack has been selected to create a "family-friendly" game.
Development
[
]
Industry rumors circulated in early 2009 of the game's existence[1] and appeared to be true when mention of the game was shown in a slide (that was later removed) in Harmonix's Dan Teasdale's presentation at the 2009 Game Developers Conference.[2] The game was announced officially on April 21, 2009.[3] Despite skepticism for the viability of the game,[4][5] the game is stated to combine "two compelling properties" by Traveller's Tales managing director Tom Stone, and has been called "a social game experience that crosses every generation and every genre of rock" by MTV Games senior vice president Bob Picunko.[6]
Iggy Pop both voiced the in-game tutorials for the game, and lent his trademark shirtless likeness to a Lego avatar for the game.[7] This marks the first appearance of a musician in a Rock Band title, not counting The Beatles: Rock Band. In addition to Iggy Pop, other musicians also appear in Lego form in the game, being unlocked for selection or customization after playing their respective songs:
Gameplay
[
]
Console version
[
]
The music portions of the game will remain the same as the Rock Band series, though easier skill levels will be provided for "budding musicians".[8] Only slight changes in the game's main interface have been made, most notably that notes are represented by colored Lego bricks.[9] Successfully completing songs will earn the players Lego studs which they may use to build and customize their Lego-style avatars, staff, vehicles, and their "rock den".[3][8] There will also be Lego-themed challenges such as demolishing buildings by successfully playing songs.[8]
All existing music game controllers will work with Lego Rock Band.[3]
DS version
[
]

The Nintendo DS version of the game is stated to play similar to Rock Band Unplugged, in which the player switches back and forth between the various instruments, trying to keep the entire band playing. The game only utilizes the touchpad and stylus, and would not include additional peripherals as used for the Guitar Hero On Tour series.[10]
notes
| Control | Action |
| --- | --- |
| | Red note |
| | Yellow note |
| | Green note |
| | Blue note |
Soundtrack
[
]
Main Article: Lego Rock Band Setlist
Box Art
[
]
The box art for the North American version has been released via Gamestop's website.
References
[
]
A very helpful FAQ guide by Rock Band Forum member "Sayburr" [1]