Lazy Eye
Silversun Pickups
Carnavas
Supervision Recommended
Information
Released
2006
Genre
Indie Rock
Language
English
Source
Rock Band 2
also on iPhone OS
also in Mobile version

Available
September 14, 2008
Playable in
Rock Band 2
Rock Band 3
Rock Band Blitz
Rock Band iPhone

Difficulty
Band
Basic
Pro
Guitar
No Part
Bass
No Part
Drums
Keys
No Part
No Part
Vocals
Difficulty (on iPhone OS)
Band
Guitar
Bass
Drums
Vocals
Details
Male singer
Guitar Solo
Vocal Tambourine
2-part Harmonies

"Lazy Eye" is a song by Silversun Pickups which is rather easy on any instrument except for guitar, in which it is a Tier 6 (red





) song. Even on guitar, it is not very hard to pass, but INSANELY hard to FC due to the very tight grouping of some notes ranging from 3 to 8 notes in a bundle. These notes require double the strumming speed of most of the alt-strumming notes in the song.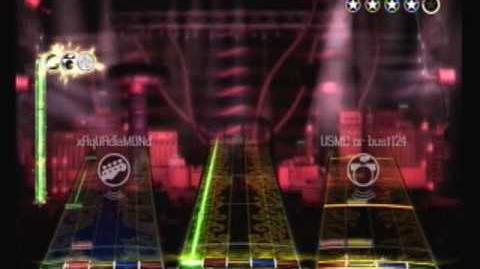 Community content is available under
CC-BY-SA
unless otherwise noted.