Details
Male singer
Guitar Solo
3-part Harmonies

Everlong is a song by Foo Fighters which is often interpreted to be about the drug addictions and bad habits of the late Kurt Cobain, who was in Nirvana with Foo Fighter frontman Dave Grohl, who wrote this song. However, according to an interview with Grohl in Mojo magazine, he penned this song during one of the lowest points in his life over Christmas 1996. The frontman was sleeping in a sleeping bag on a friend's floor having just got divorced from photographer Jennifer Youngblood and as a consequence was homeless. On top of that Grohl had no access to his own bank account, and both his drummer, William Goldsmith, and guitarist, Pat Smear, were on the verge of quitting the Foo Fighters. In the midst of all this he wrote this love song in about 45 minutes.
The song evokes real love, that feeling of shyness, yet excitement, like the first time for anything. It's a feeling that is so strong that you want it to last forever, even though you know nothing ever lasts forever. in the video, Grohl is trying to protect his girlfriend. When he sees that she is in trouble his hand grows abnormally large and beats down anyone that tries to hurt her. (thanks, Bec - Melbourne, Australia)
The band performed this on The Late Show With David Letterman on February 21, 2000, when Letterman returned from heart surgery. It is his favorite Foo Fighters song.
There is some whispering at the end of the song. It is a combination of 3 tracks mixed by Dave Grohl. One track is a love letter being read, another is a technical manual, and the third is a story about the father of one of the studio engineers.
The music video is partially a parody of the cult horror film Evil Dead. In the movie, which was directed by Sam Raimi (who would go on to direct the Spider-Man films), a group of friends spend the weekend in a cabin only to be attacked by zombies. The parts of the video featuring Dave Grohl as some kind of a superhero with a giant hand (referred to as "Handor" by some fans) have nothing to do with Evil Dead, though. The video was directed by Michel Gondry, who went on to make Eternal Sunshine Of The Spotless Mind. Gondry used to have dreams where his hand grew to giant size. (thanks, Eric - Suffern, NY)
Dave Grohl played an acoustic version of this at one of Neil Young's Bridge School benefit concerts. The Bridge School is a program for children with disabilities, and after Grohl performed, he got a standing ovation. It was the closest he ever came to crying on stage.
The song appeared on Friends episode 7.24, "The One With Chandler And Monica's Wedding." This version, which wasn't played by The Foo Fighters, was used at the end of the episode right after Monica and Chandler were married. (thanks, viljo - tampere, Finland)
In the movie Little Nicky featuring Adam Sandler, you can hear an acoustic version of "Everlong" just before the scene where Nicky falls from Valerie's balcony. (thanks, Vincent - Paris, France)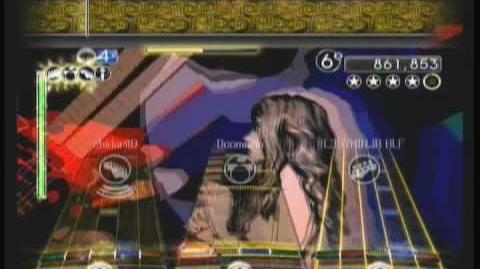 Songs available as Downloadable Content
Released on marketplace 2011
"2112" • "2112: Discovery, Presentation" • "2112: Oracle: The Dream, Soliloquy, Grand Finale" • "2112: Overture, The Temples of Syrinx" • "867-5309/Jenny" • "Adolescents" • "The Adventures of Rain Dance Maggie" • "Aerials" • "Airplanes" • "All Along the Watchtower" • "All Apologies" • "Alright" (RB3 Version) • "Angel" • "Animal" (Live) • "Animals" • "Audience of One" • "Awful Beautiful Life" (RB3 Version) • "Backwoods" (RB3 Version) • "The Ballad of Ira Hayes" • "Bark at the Moon" • "Barracuda" • "Bend Down Low" • "Bicycle Race" • "Big Bang Baby" • "Billionaire" • "Black Magic Woman" • "Blood and Thunder" • "Blow Up the Outside World" • "Blue Bayou" • "Blue Jean" • "Blurry" • "Boom" • "Born This Way" • "Brand New Cadillac" • "Breaking" • "Breath" • "Bringin' On the Heartbreak" • "Burden in My Hand" • "Burnin' and Lootin'" • "By the Way" • "Californication" • "Caravan" • "The Card Cheat" • "Child in Time" • "Clampdown" • "Clocks" • "Coming in from the Cold" • "Control" • "Conventional Lover" • "Crawling" • "Crazy Town" (RB3 Version) • "Cry, Cry, Cry" • "Dance, Dance" • "The Day I Tried to Live" • "Death or Glory" • "Diary of a Madman" • "Do You Feel Like We Do" (Live) • "Do You Really Want to Hurt Me" • "Dolly Dagger" • "Don't Stop Me Now" • "Don't Take Your Guns to Town" • "Don't You Want Me" • "Dream Baby (How Long Must I Dream)" • "Dream Police" • "Dreams" • "Edge of Seventeen (Just Like the White Winged Dove)" • "Every Breath You Take" • "Every Teardrop Is a Waterfall" • "Fame" • "Fell on Black Days" • "Fire" • "Fire and Ice" • "Five Feet High and Rising" • "Five Minutes Alone" • "Fix You" • "Fly By Night" • "Flying High Again" • "Folsom Prison Blues" • "For What It's Worth" • "Forever" • "Four Horsemen" • "Freedom" • "Freeze-Frame" • "From Out of Nowhere" • "Get Clean" • "Ghost of Perdition" • "Giddy On Up" (RB3 Version) • "Gold Cobra" • "Gold Dust Woman" • "Grenade" • "The Guns of Brixton" • "Gypsy Eyes" • "Hard Rock Hallelujah" • "Hash Pipe" • "Hateful" • "Head Like a Hole" • "Heart of the Sunrise" • "Heart-Shaped Box" • "Help Is on the Way" • "Here Without You" • "Higher Ground" • "Hot Blooded" • "How You Remind Me" • "Hypnotize" • "I Alone" • "I Believe in a Thing Called Love" • "I Don't Know" • "I Go to Extremes" • "I Got Stripes" • "I Walk the Line" • "I Want You to Want Me" (Live) • "I Will Possess Your Heart" • "I Wish" • "I Write Sins Not Tragedies" • "If Today Was Your Last Day" • "I'm Broken" • "I'm in Love With My Car" • "I'm Not Down" • "In the End" • "In Waves" • "Intentional Heartache" (RB3 Version) • "Invincible" • "Island in the Sun" • "I've Seen All Good People" • "A Jagged Gorgeous Winter" • "Jimmy Jazz" • "Just the Way You Are" • "Kaya" • "King of Rock" • "Kiss a Girl" (RB3 Version) • "Koka Kola" • "Landslide" • "Left Behind" • "Lightning Crashes" • "A Little Respect" • "Lively Up Yourself" • "Living Dead Girl" • "Living for the City" • "The Loco-Motion" • "London Calling" • "Long Away" • "Long Hot Summer Night" • "Long Road to Ruin" • "Look Around " • "Lost in the Supermarket" • "Love is a Battlefield" • "Love Rollercoaster" • "Love Will Tear Us Apart" • "LoveGame" • "Lover's Rock" • "Made of Scars" • "Make Some Noise" • "Mama Tried" (RB3 Version) • "Mama, I'm Coming Home" • "Man of Me" (RB3 Version) • "Man on the Moon" • "Marry You" • "Me and Bobby McGee" • "Miami 2017 (Seen the Lights Go Out on Broadway)" • "Misery" • "Modern Love" • "Monarchy of Roses" • "Mouth for War" • "Mr. Crowley" • "Must Have Done Something Right" • "My Life" • "My Way" • "Need You Now" • "Never Let Me Down Again" • "Night Lies" • "The Night The Lights Went Out in Georgia" (RB3 Version) • "No More Trouble" • "No Sleep till Brooklyn" • "Nookie" • "Nothin' but a Good Time" • "Numb" • "Obsession" • "On the Backs of Angels" • "Only the Lonely (Know the Way I Feel)" • "The Only Time" • "Operation Ground and Pound" • "Otherside" • "Outshined" • "Over the Mountain" • "Owner of a Lonely Heart" • "Panic" • "Paparazzi" • "Paradise by the Dashboard Light" • "Parallel Universe" • "Pardon Me" • "Party for Two" (With Billy Currington) (RB3 Version) • "The Party Song" • "Perfect Day" (RB3 Version) • "Perfect Situation" • "Personal Jesus" • "Photograph" • "Policy of Truth" • "Pour Some Sugar on Me" (Live) • "Prelude/Angry Young Man" • "Pressure" • "Promises in the Dark" • "Pulse of the Maggots" • "Radio Ga Ga" • "Rain is a Good Thing" (RB3 Version) • "Rape Me" • "Re-Arranged" • "Rebel Love Song" • "Relax (Come Fighting)" • "Revolution Rock" • "Rhiannon" • "Ride" (RB3 Version) • "The Right Profile" • "Ring of Fire" (RB3 Version) • "Rob the Prez-O-Dent" • "Rock and Roll All Nite" (Live) • "Rock of Ages" • "Rock the Casbah" • "Rope" • "Rudie Can't Fail" • "Rusty Cage" • "Sanctified" • "Say You'll Haunt Me" • "Scar Tissue" • "Scenes from an Italian Restaurant" • "The Scientist" • "Settlin'" (RB3 Version) • "Seven Seas of Rhye" • "Shadows of the Night" • "She Hates Me" • "She's Always a Woman" • "Shooting the Moon" • "Shoulder to the Plow" • "The Show Must Go On" • "Sideways" (RB3 Version) • "Single White Female" (RB3 Version) • "Sir Duke" • "Small Axe" • "Snuff" • "So Lonely" • "Somebody to Love" • "Someday" • "Somewhere I Belong" • "Sooner or Later" • "South Side of the Sky" • "Spanish Bombs" • "Spill the Wine" • "Spinning Wheel" • "The Spirit of Radio (Live)" • "Stacked Actors" • "Stand Back" • "Starship Trooper" • "Stash" • "Stay Together for the Kids" • "Steal Away (The Night)" • "Stereo Hearts" • "Stone Cold Crazy" • "Stop Draggin' My Heart Around" • "Strutter" (Live) • "Sugar, We're Goin Down" • "Summer Nights" (RB3 Version) • "Super Bad, Pts. 1 & 2" • "Super-Charger Heaven" • "Superstition" • "Supreme Girl" • "Surrender" (Live) • "Take On Me" • "Talk Dirty to Me" • "Tell Me Something Good" • "Tennessee Flat Top Box" • "Terrible Lie" • "That's How Country Boys Roll" (RB3 Version) • "The Good Left Undone" • "Them Belly Full (But We Hungry)" • "This Love" • "This Means War" • "Thnks fr th Mmrs" • "Through Glass" • "Through the Fire and Flames" • "Thunder Kiss '65" • "Total Eclipse of the Heart" • "Tubthumping" • "Turning Japanese" • "Twang" (RB3 Version) • "Tweezer" • "Unbelievable" • "Undefeated" • "Unholy Confessions" • "Unskinny Bop" • "Until the End" • "Up All Night" • "Urgent" • "Wait and Bleed" • "Waiting for the End" • "Walk" • "Walk" • "A Warrior's Call" • "We Belong" • "We Built This City" • "Welcome to the Family" • "Welcome to the Neighborhood" • "We're an American Band" • "What I've Done" • "When I'm Gone" • "When You're Young" • "Wish You Were Here" • "Visions" • "Viva la Vida" • "Won't Go Home Without You" • "Voodoo Child (Slight Return) (Live)" • "Working for the Weekend" • "Wrong 'Em Boyo" • "Yellow" • "You Know You're Right" • "You Make Me Feel..." • "Young Americans" • "You're My Best Friend" • "Youth of the Nation" • "Ziggy Stardust"
Community content is available under
CC-BY-SA
unless otherwise noted.